There's a lot of great traditional Christmas music out there. But that doesn't mean there's not plenty of room for new favorites to find their way into your heart and onto your holiday playlist.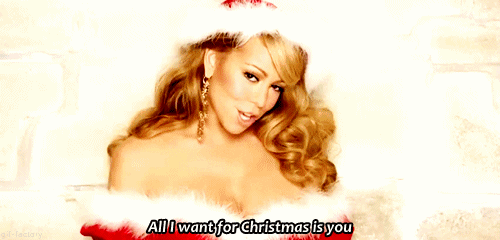 So when you're not rocking around the Christmas Tree or telling baby it's cold outside, here's a list of 10 great modern hits by some of our faves.


Destiny's Child - 8 Days of Christmas


Kicking it off with the title track from Destiny Child's Christmas album, a song that celebrates what gift giving is REALLY about: love. The song lists the gifts from a boy to his girl, but while some of them are jewelry and a Mercedes, equally given and appreciated are a back massage, a poem and even just some quality time spent together. The focus isn't on Christmas being about the physical items, it's on how the love they come with is what makes it really feel like Christmas.
Of course, all of this comes with DC's incredible harmonies and a thumping bassline, perfect for shoulder shimmies while baking cookies.

Justin Bieber - Mistletoe



Okay, wait, hear us out. No matter how you feel about Bieber, this seemingly simple tune lets you really hear the genuine talent he has. And the song itself is a sweet promise to be waiting for that traditional kiss under the mistletoe from that one special person. Whoever they are.

Trey Songz - Comin' Home



Christmas usually means frosty cold nights, but Trey Songz has some suggestions for keeping himself and his baby warm. As soon as he gets home to her, that is. His sweet vocals start with promises of being home to see her, but eventually lets us know he's got more than just snuggling by a fire with hot cocoa on his mind. And we're 100% good with this method, just make sure you wrap up your present beforehand. If you know what we mean.

Ariana Grande - Winter Things



Of course, maybe it's NOT cold where you are this Christmas. But as Ariana Grande proves, that shouldn't stop you from enjoying the season with the one you love. Perfectly complimented with a strummed ukulele line, it's a great reminder that the picture perfect Christmas, ironically, doesn't usually look like the pictures.

Fall Out Boy - Yule Shoot Your Eye Out



Sick of all the lovey dovey stuff on this list? Sitting there saying "Okay, but I'm totally heart-broken this Christmas and you're making it worse!" Fall Out Boy to the rescue!
Beyond the punny title, the song is an acoustic Christmas letter to an ex wishing them the worst. We're even willing to overlook the major grammatical error in the chorus (it's "I COULDN'T care less," guys). Mostly because we feel like Patrick Stump telling us he doesn't want to see us for Christmas is a million times worse than getting coal in your stocking.

Run DMC - Christmas in Hollis



Who says there's no room for hip hop in Christmas music? We don't know, but obviously we disagree. Example: this holiday track from legends Run DMC. The boys share some great holiday tales, including a run in with Santa in a park. Also important: a breakdown that samples "Frosty the Snowman" and "Joy to the World," and the line "my name's DMC with the mic in my hand/and I'm chillin' and coolin' just like a snowman."

Yellowcard - Christmas Lights



Okay, okay, we KNOW it's technically a cover of a Coldplay song. But we're putting the version by Yellowcard on this list for 2016 because we're ending the year by bidding them a fond farewell. Their version of the song is naturally infused with California pop-punk sounds which make the line "You're still waiting for the snow to fall" seem even more heartbreaking.
Merry Christmas, Yellowcard. Thank you for everything.

NSYNC - Merry Christmas, Happy Holidays



These five talented hunks said it so perfectly and we can't find a reason to disagree:
No matter what your holiday
It's a time to celebrate
And put your worries aside
And open up your mind

Bowling for Soup - Even Santa Needs a Break Sometimes



The holidays are a lot of work, right? Baking, decorating, shopping, wrapping, traveling, wearing ugly, ugly sweaters and hoping everyone realizes you're doing it ironically. After it's all said and done you probably feel ready for a nice, long break.
Now imagine how that must feel for Santa Claus. Alt-rockers Bowling for Soup helpfully explain how Mr. Claus and the Mrs. spend the rest of their year when they're not frantically preparing for a one night non-stop trip around the world. After all, they've earned it!

Mariah Carey - All I Want For Christmas Is You



Um, did you expect us NOT to put this on our list? It's THE Christmas pop song. Catchy lyrics and music, it's difficult not to feel the holidays when this is blasting. Don't believe us? Even rock group My Chemical Romance felt the same way...and proved it with a cover version of their very own.